About Us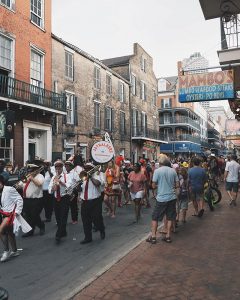 With authentic New Orleans cuisine, an emphasis on comfort, and the only rooftop bar on Bourbon Street, Mambo's is a festive oasis offering locals and visitors alike a re-energizing escape from the strip clubs, cover bands and daiquiri shops outside.
Located in the heart of the French Quarter, the welcoming gravity of the towering three-story building invites you to explore what lies beyond its French doors.
Inside, exposed brick, reclaimed Cypress planks and pressed copper tin ceilings set a casual but sophisticated tone. Warm lighting and rich, deep colors stimulate the senses. Local art and intriguing artifacts of Louisiana culture catch your eye with every turn, like a museum. In the background, traditional jazz tunes subtly fill the air like a soundtrack to a dream. Our friendly staff tend to your every need.
You are tempted to explore every floor. Above the main dining area, an inverted swamp mural spans the ceiling. This quintessential Southern motif is home to a pair of colorfully backlit custom-made, one of a kind 11-foot metal alligator sculptures that lurch over diners in a pool of swirling swamp water. The ominous beasts appear to crawl across the ceiling keeping an eye on the activities below.
If you are lucky, you will discover the hidden entrance to our secret courtyard. A calming fountain soothes, while dramatic lighting splashes spectacular shadows of hanging ferns throughout the patio garden.
The second floor shares the same rustic ambiance and emphasis on Louisiana-themed decor. There is another, more intimate bar. Several well-placed televisions let you keep your eye on the Saints game from anywhere in the dining room.
The crown jewel of Mambo's is the recently-added third floor, which is home to the first and only rooftop bar on Bourbon Street. When you reach this summit, you first enter the inside bar area. Through the use of reclaimed building materials and painstaking design, this new addition has the same rustic, historical ambiance as the floors below. With enough local artwork to pack a gallery, the vibrant colors reverberate throughout the room like the jazz that inspired it. From there, several glass doors open to reveal a unique outdoor oasis in the middle of Bourbon Street.
Your meal is prepared by chefs who have spent their lives perfecting the art of authentic Cajun and Creole cooking. Food quality is a top priority, not an afterthought, and each item on our menu is guaranteed to please. We are most famous for our signature crab cakes loaded with plump crab, lightly fried and topped with a spicy crawfish and mushroom cream sauce.
Inside and out, Mambo's is a celebration of the diversity and colorful energy of New Orleans. The French Quarter is stuffed full of places to eat, but finding an authentic local dining experience is much more difficult.  Mambo's hits every benchmark.  From big dishes and drinks, to small details, nothing has been overlooked.  At nearly 10,000 square feet of space on three floors, you will find it's big enough to serve a large crowd, yet designed in a way that remains cozy and intimate.  It's the kind of place where you could come back time and time again and still discover something new.